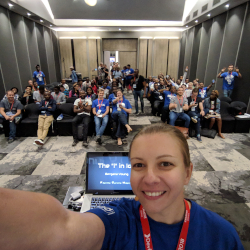 Hi! My name is Gergana,
but I usually go by Gery because that's a bit easier to pronounce. I am a South African software developer, adventurer and Star Wars geek extraordinaire.
I am a Microsoft MVP
in Windows Development, due to my community contributions to the Internet-of-Things.
I work in the R&D team at BBD.
We do a variety of things such as training, consulting and research. My personal areas of interest are web and IoT, and more specifically the convergence of these two technologies. You can check out some of my personal projects on GitHub.
I love speaking in community, below you can see some of my more recent talks:
For a full list of talks you can take a look at this YouTube playlist.
I am also trying out this blogging thing.
Follow me on Medium for more articles.